Park Furnishings & Amenities 
Commercial site amenities are essential to the usability of any recreational area, playground or business. Park amenities allow guests to relax and enjoy their outdoor experience, providing a reprieve from our often busy lifestyles. They can add to the overall aesthetic of a venue, while creating an atmosphere uniquely tailored to your site. No recreational space is complete without a bench to relax on, a table to have a picnic at or waste receptacle that allows you to leave nothing but footprints.
Site Amenity Options
At Adventure Playground Systems, you can choose from a wide range of commercial park amenities such as:
Picnic Tables
Outdoor commercial picnic tables are one of the most classic commercial grade site amenities — they're a must for any play or recreational area. Picnic tables provide a comfortable, welcoming place for groups of people to sit and chat. They can be a place for lunch, an afternoon of reading or even fun tabletop games. Commercial picnic tables encourage guests who visit your park to linger and stay a while.
Benches
Commercial grade park benches are important because when children play, caregivers need somewhere to watch over them and ensure proper supervision. Benches are also great for reading, relaxing or just enjoying a beautiful day. Like picnic tables, benches encourage park users to linger. Combine them with one of our custom shade canopies to provide cool, shaded areas for people to sit and relax.
Bike Racks
Encourage your community members to come to your play area via bicycle, reducing the number of cars on the road. Make it easier for children to be independent and bike to the park by providing bike racks, allowing park users to store their bikes safely while they play.
Park Grills
Grilling is a great way to bond with family and friends over food. By installing grills at your park or play area, you can encourage families and communities to come together for an old-fashioned barbecue.
Trash Receptacles
Keep your park beautiful and clean with attractive trash receptacles that encourage your users to drop their trash into litter bins, reducing the amount of debris you need to pick up.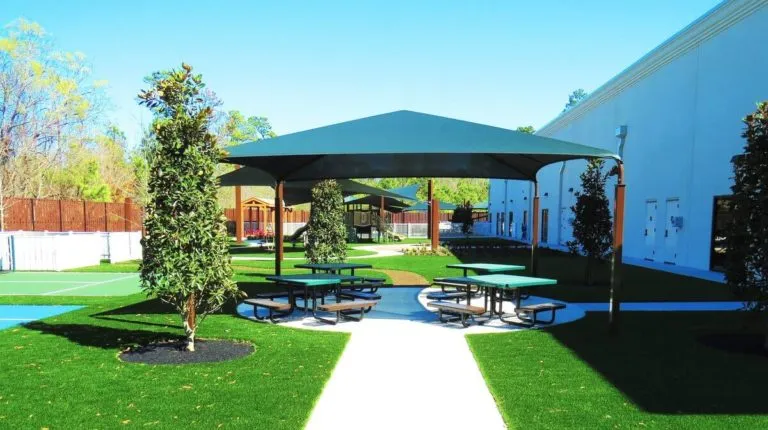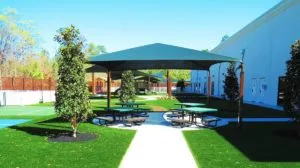 Why Choose Adventure Playground Systems?
We offer a large assortment of design styles and color selections, so your park amenities can be truly customized for any venue. All of our commercial site amenities are available with ADA compliant options that promote inclusivity for every type of establishment. With over 100 benches alone you're sure to find a size, style, and color that fits perfectly with your design aesthetic and budget. Add your logo to a bench or spell out your #hashtag in bike racks. We've got you covered with a trained team that can guide you through the process.
Our signature Advantage Coating system is like nothing in the market today, it produces the absolute most durable coating on any thermoplastic-coated steel park amenities. Unlike other coatings, Advantage Coating has the highest adhesion rating you can obtain. The signature coating exceeds other coatings such as plastisol and polyethylene in most if not all aspects. Like plastisol it has a thick layer with 90% gloss shine and smooth surface, but without the drips and runs commonly found on plastisol coated products. The surface is non-porous which means it is impervious to stains, fungus, mold, mildew, dirt build-up, common acids, salts and saltwater. Advantage Coating is UV and fade resistant, it doesn't crack, scratch, peel, or warp in harsh outdoor elements. Our coating is ultra-resistant to vandalism and cutting, it can be cleaned with little to no effort.
Buying Park Furnishings
With more than 20 years in the business, Adventure Playground Systems can offer guidance and answer any questions you may have when it's time to buy park amenities. We offer a wide range of park amenities in a multitude of design styles, sizes and color options. From our hometown favorite Houston series to the always popular classic line, you're sure to find park amenities, benches and accessories to match your park or playground design perfectly. If you're ready to buy commercial site amenities, buy from the best. At Adventure Playground Systems we start with a promise to uphold the very highest standards of quality and safety. We back this promise with comprehensive quality, excellent customer service and one of the best warranties on the market. Our full line of commercial site furnishings not only set a new bar in quality, they are also manufactured and coated right here in the USA.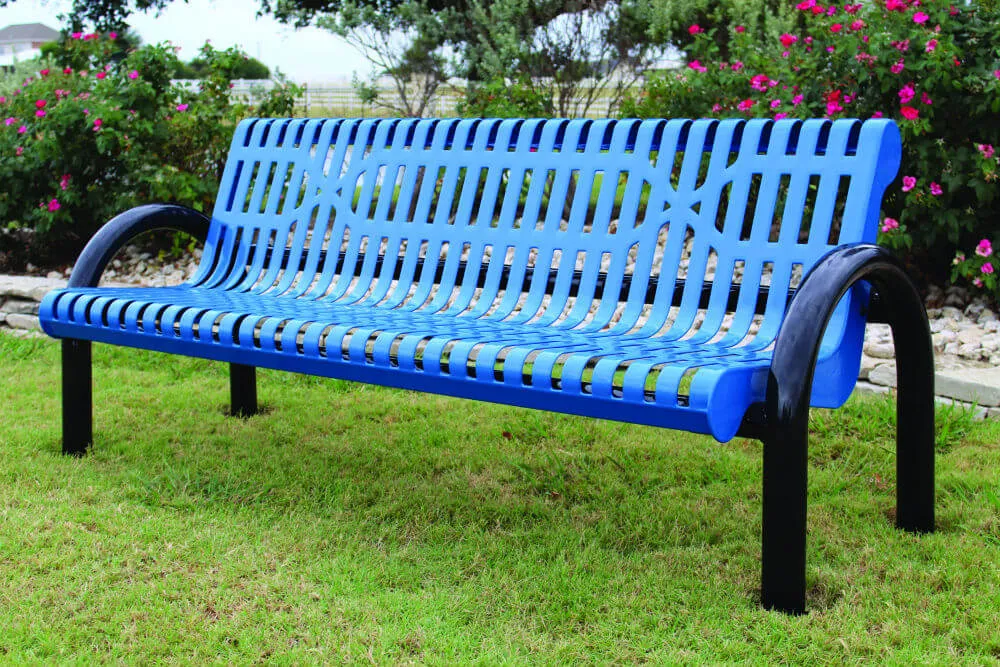 Order Your Park Site Furnishings From Adventure Playground Systems
From park benches to picnic tables, Adventure Playground Systems offers a wide range of playground furnishings that will turn your park or playground into the community destination of your dreams. We have more than 20 years of experience creating durable commercial grade site amenities for playgrounds, parks and businesses. We use this experience to give communities nationwide quality, safe and innovative outdoor recreation equipment that meets the highest industry safety standards.
Contact us today at 1.888.935.2112 to request a quote for any of our commercial grade site amenities and park accessories. Our Adventure Play Experts will work with you to design the perfect outdoor recreation area, complete with park site furnishings that will beautifully enhance your space.